I've seen many chocolate babkas on my feed lately which got me thinking… why not a savory babka? why not oniony? I was thinking about this sundried tomato, harissa, and shallot mixture for nights on end and I finally decided to make some babkas to celebrate Biden Harris winning the 2020 election. It's been such a crazy year that it feels nice to be hopeful again. Even though I wish it was Bernie and AOC. Whatever!
First of all, what are Babkas?
A babka is a sweet braided bread or cake which originated in the Jewish communities of Poland and Ukraine. It is popular in Israel and in the Jewish diaspora. Babkas are very similar to Krantz Cakes, an Ashkenazi Jewish cake prepared using yeast-risen dough. I learned about this from Yotam Ottolenghi & Sami Tamimi's Jerusalem cookbook. A book I adore and never get bored of making recipes from. According to the Jerusalem cookbook, it's the most popular cake in the west side of Jerusalem.
A few notes on this recipe (please read before making)
It takes at least 8-10 hours to make. You will need to allow the yeasted cake to rise overnight in the fridge.
For the bread/cake dough, measurements are in grams because it's much more exact. For bread and baking, measurements such as cups can vary in volume—A LOT. Just think about how you pack your flour or other volatile ingredients.
These directions are for two (2) loaves of babkas You can make one savory and one sweet if you like.
You will need a few extra appliances and tools: a food processor or a hand mixer using a dough hook or a stand mixer—or your hands if you like kneading—, a dough roller, a ruler, patience, a 2lb/1kg loaf pan, parchment paper, and at least 12 hours.
This cake is very reminiscent of a sweet, soft, buttery brioche bun. The combination with the caramelized sun-dried tomato paste is quite decadent in itself thanks to the moistness of the dough.
Ingredients
For the bread/cake dough
530g plain flour
100g fine sugar
14 gr fast-rising dried yeast
grated zest of 1 lemon
3 extra-large free-range eggs
120ml water
1/4 tsp sea salt
150g unsalted butter, cut into cubes and softened
grapeseed or sunflower oil for greasing (whatever neutral tasting oil you have)
For the filling
2 cups sliced shallots
1 tbsp minced garlic
1 tbsp harissa paste
salt & pepper to taste
1 cup of vegetable stock
1 cup of sun-dried tomato packed in extra virgin olive oil—drained and crushed into a paste using a food processor
1 tbsp butter or ghee
1 pinch flaky sea salt (for topping)
Preparation
For the babka dough
In a bowl, add the flour, sugar, yeast, and zest and mix together using your hands, a food processor, or a stand mixed with the dough hook. Add the eggs and water and mix for a few minutes until the dough comes together. Add salt and start adding the butter, a cube at a time, letting it all melt into the dough. Make sure to scrape the bottom as you mix. Mix for five-ten minutes, until you obtain an elastic, smooth, elastic shiny dough.
Grease a large bowl with your neutral oil, place the ball of dough into it, cover with plastic wrapf and leave to rise overnight or for at least 8 hours.
After allowing the dough to rise in the fridge for at least 8 hours or overnight (bake whenever you want, babe). You're ready to make the filling of your babka.
In a pan, over high-medium heat, add the butter and sauté your shallots, garlic, harissa paste, salt &pepper to taste until very soft. Add your sun-dried tomato followed by 1 cup of vegetable stock mix well and allow it to simmer so it reduces completely to a paste. Once you have a homogenous paste of caramelized onions and sun-dried tomato, remove from heat and allow to heat completely.
Pre-heat your oven at 375F/190C. Grease with neutral oil your 2lb loaf pan and line with parchment paper.
Divide the dough into two parts, work one part on a floured surface, leave the other part covered in the fridge until you're ready to use.
Using a rolling pin, a wine bottle,—or whatever you use— roll out the dough onto a lightly floured surface, then trim the edges with a knife to obtain a 38cm x 28cm rectangle. I messed this part up a bit and made somewhat of a square but whatever.
Spread half of your caramelized onion paste using an offset spatula.
Brush some water over the long edge of the dough on your left either using a brush or dabbing with your fingertips. Using both hands, roll up the rectangle like a roulade, starting from the long side on your right, rolling towards the left side. Roll the dough completely into a perfect, fat log.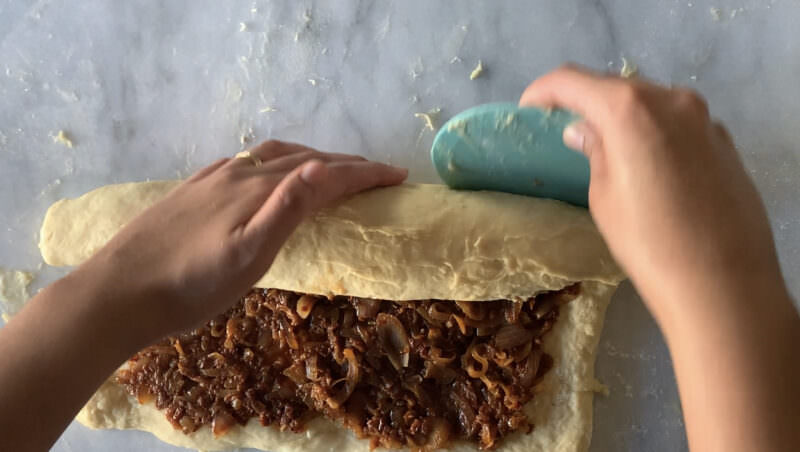 Using an oiled serrated knife, trim off 2 cm of both ends. Gently, cut the roll into two, lengthwise, from the top to the bottom. Position the cut sides facing up, gently press the ends together.
It doesn't have to be perfect, although it would be nice if it were. But it's totally okay to mess up your braid, just make sure you tidy and tight it up before you place it in the loaf pan.
Lift the right half over the left half. Repeat with the left half over the right half and press the ends together to seal it. Carefully lift the loaf and place into the loaf pan.
Repeat the process with the remaining dough. Cover the loaves with a wet tea towel and leave to rise in a warm place for 1/1.2 hours. The loaf will rise by 10%-20%
When your cake has risen, remove the tea towel, sprinkle with some flaky sea salt and into the oven for 30-40 minutes, or until a skewer comes out clean.
Once the cakes are baked and out of the oven allow it to cool before removing from the pan.
Enjoy your savory babka!