I love this taquitos recipe because you can make it in the air-fryer or in the oven, doesn't matter what oven you prefer.
You can play with the filling and make whatever theme you like. For example, Korean: bulgogi beef with cabbage and carrots. Vegan: with assorted wild mushrooms and shredded cabbage. Breakfast: egg and sausage… The world is yours, my friend! They're crunchy and delicious and incredibly satisfying. Gluten-free if you choose to use corn tortillas and very easy to veganize (is that a word?).
If you'd like to just take a look at a 1 minute video, click here.
Taquitos, Anyway You want
Recipe – Makes 10
For the filling:
2 tbsps olive oil
1 cup chopped portobello mushrooms
1 cup julienned onions
1 cup julienned peppers
1 tsp salt
1 tbsp cumin
1 1/2 cups shredded chicken
1/2 cup shredded cheese (I used Oaxaca)
10 corn tortillas
Optional: sprayable coconut oil
For topping
1/4 cup diced white onions
1/4 cup chopped cilantro
Method
In a pan over high-medium heat, add the olive oil and sautee your onions, peppers, and mushrooms. Season them with salt and cumin.
Once your veg is wilted, add shredded chicken. Followed by shredded Oaxaca cheese. Remove from heat and Set aside.
In damp paper towels, wrap your corn tortillas and place them in the microwave for 30 seconds so they're pliable. If you use them completely raw, they will break apart as soon as you try to bend them.
Add the filling to the tortillas and wrap them into little flute-like shapes. Place on a sheet pan lined with parchment paper seam side down.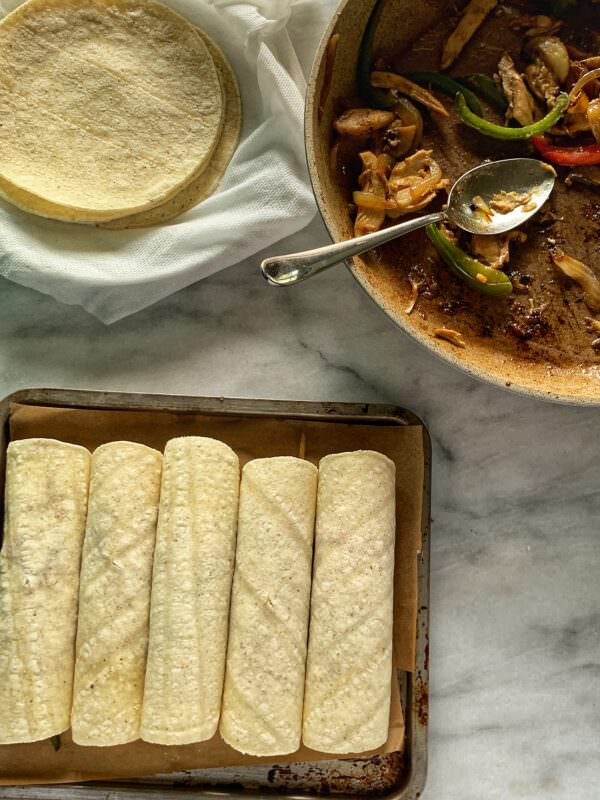 Spray with coconut oil (or any sprayable oil) and place into the oven at 400F/204C for 15 minutes. OR in the air fryer for 10 minutes.
Top with chopped onion and cilantro or enjoy with some queso! In the need of more recipes? Browse recipes here!