This Guajillo Cashew Queso is to die for. One day I randomly bought a bag of Guajillo chiles. So I've been experimenting with them in so many different ways. If you're not familiar with Guajillo chiles, they're the dried form of Marisol Chiles. Similar to how Chipotle is the dried form of Jalapaños.
Now, I am simply obsessed with this Guajillo Cashew Queso. It's not hard to make, just takes time. And you most likely won't be able to tell it's completely vegan.
For a 1-minute video recipe, click here.
Guajillo Cashew Queso Recipe
2 dried guajillo peppers
1 white onion cut in quarters (about 1 cup)
3 small potatoes cut in chunks (about 1 cup)
1 cup of soaked cashews
3 cups of filtered water
1 tbsp of harissa paste
1 teaspoon of kosher salt
1 teaspoon of cornstarch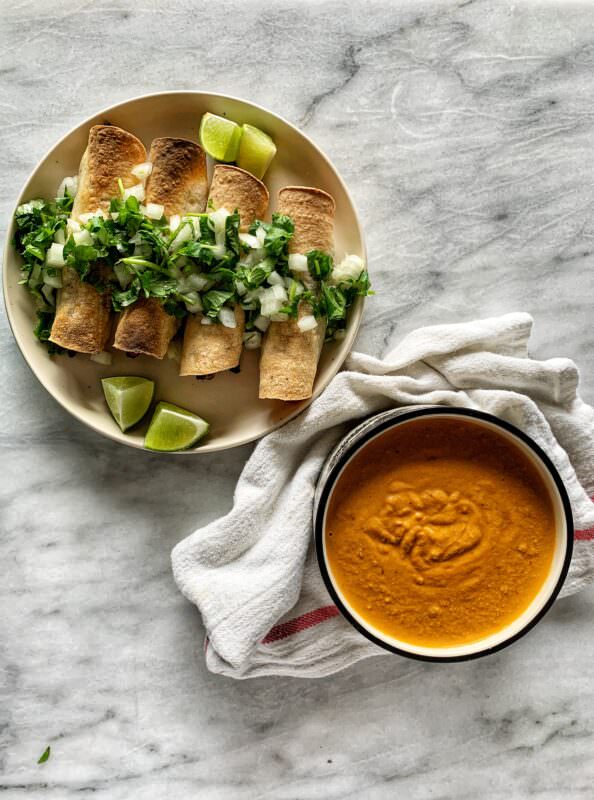 Method
In a pot over medium-high heat, add filtered water, dried chiles, onions, and potatoes and bring to a boil.
When everything is soft, remove the stems (optional to remove the seeds, I like them!) and add your soaked cashews. Add harissa, season with salt. Transfer everything to a food processor. Reserve the liquid.
Add liquid as needed and blend until soft. You want a smooth cheesy like consistency
Transfer the mixture from the food processor back to the pot.
In a separate bowl, add 1 tsp of cornstarch and make a slurry with 1/2 cup of the liquid. Add the slurry to the pot and mix just until it boils.
Transfer to a glass container and enjoy with chips or taquitos! It's seriously soo good.