Since March my eating habits have changed drastically. Blame it on the pseudo-Texan lockdown or the world being upside down, but I now tend to get hungry after 11 am. Brunch territory is a place I love so I'm always trying to keep interesting, even if I'm making a loved staple such as Sweet Potato Hash.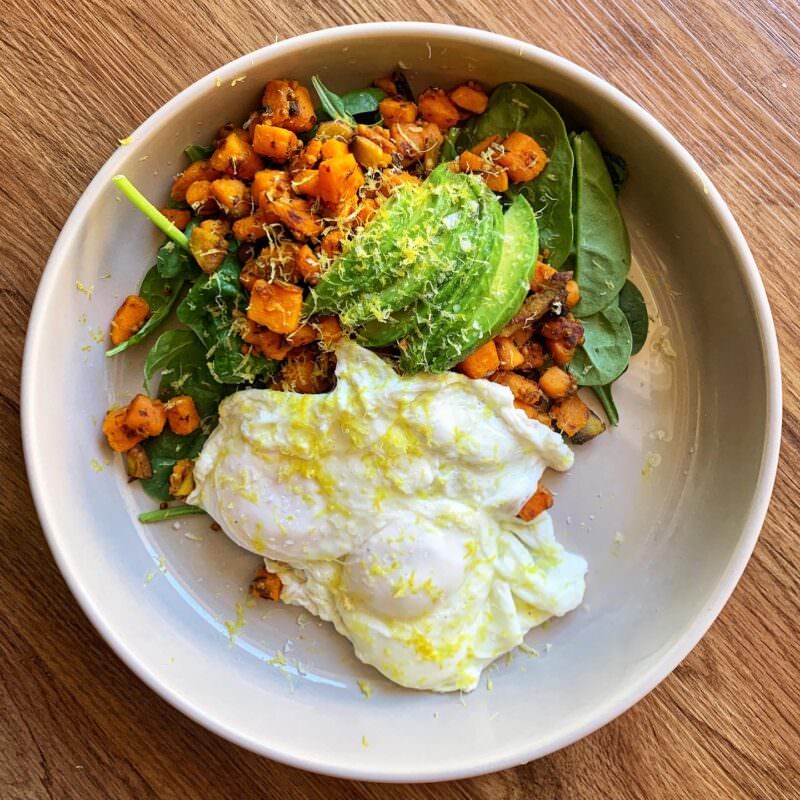 Here's what you need
2 cups of cubed sweet potato, steamed
2 teaspoons ground turmeric
2 teaspoons ground cumin
1 teaspoon caraway seeds
1 teaspoon mustard seeds
2 teaspoons kosher salt (or fine sea salt)
4 tablespoons of ghee (clarified butter) (I use Nature Valley)
Garnish
2 poached eggs
avocado
fresh spinach & arugula
fresh lemon zest
flaky salt (such as fleu de sel or maldon)
Method
Melt the ghee in a pan and add the turmeric and cumin. When the spices are bubbling, add the sweet potato. Add salt and mix it up. Add the seeds. Mix it all up and let each side of the sweet potato crisp up, then flip. This will take about 3 minutes on each side on high heat.
When slightly crispy on each side, remove from the heat and plate with fresh spinach. Top with two poached eggs, avocado, fresh lemon zest, and flaky salt.