During the holidays I took a trip to West Texas with chosen family. It was a wonderful trip. I made this citrus & soy roasted chicken for new year's dinner and it was a hit.
Making this recipe was the first time in a while that I cooked solely out of intuition. It felt great! So here's the recipe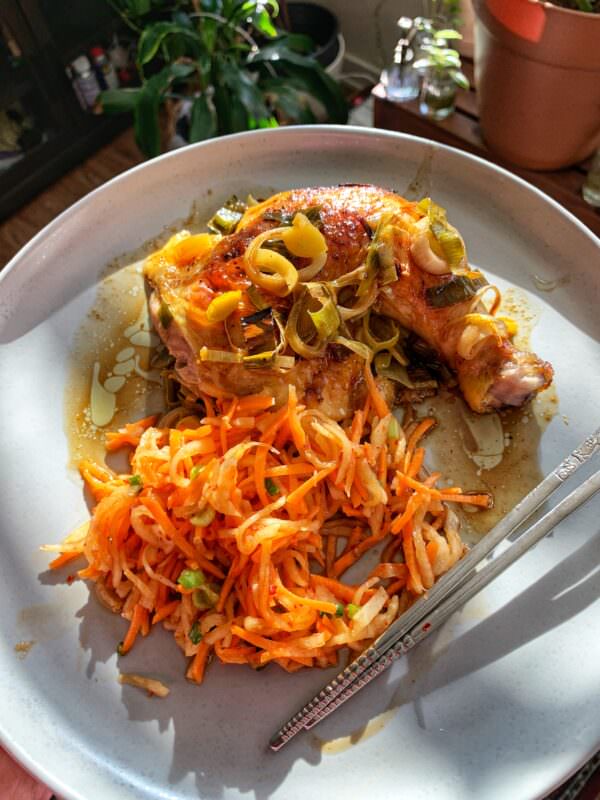 Citrus & soy roasted chicken recipe
1 whole chicken, spatchcocked
2 tsp salt
2 tsp fresh ground pepper
2 leeks, washed and chopped (about 1 1/2 cups)
1 oz lemon juice
2 oz orange juice
1 tbsp lemon zest
2 tbsp orange zest
4 cloves of garlic
3 tbsp soy sauce
Method
Preheat the oven at 450F/232C.
Wash the leeks thoroughly and slice them up. Arrange them in a roasting pan to create a bed for the chicken. Drizzle with olive oil.
Season the chicken with salt and pepper, orange and lemon zest and the juice. Smash the garlic and add it to the marinade. Allow the chicken to marinate for at least 30 minutes. The longer the better! No more than 24 hrs.
A note on scraps
I usually keep my scraps for stock. That includes vegetable scraps as well as chicken giblets and spine. I pack them into a ziplock bag and label them. Then I freeze them for up to 3 months and make plenty of stock with it.
Once the chicken is marinated and ready for the oven, arrange it gently over the bed of leeks. Pour over the rest of the marinade.
Roast the chicken at 450F/232C for 20 minutes, until golden brown and reduce the heat to 380F/193C and roast for 20 more minutes. Until juices run clear or a thermometer reads 165F/73C in the thickest part of the chicken thigh.
Remove the chicken from the oven and pour the soy sauce over the chicken, cover with aluminum foil and let it rest for 10 minutes.
What makes this chicken so good?
It's very juicy and tender. I love it because the sweetness of the citrus and the umami/saltiness of the finishing soy sauce brings everything together. Also, the leeks caramelize and end up being incredibly tender and delicious.
Serve with a fresh salad. Enjoy!