For almost a year now, I've been platonically in love with Sohla El-Waylly. Especially Sohla's sticky buns recipe.
There is something about the fearlessness in her approach to cooking that inspires me to be my best self. She is always encouraging the viewers of the youtube videos she's in to "not let the dough boss you around" and her attitude towards tempering chocolate is something to admire, "it's "nothing to fear!"
A few months ago I decided to make dosas, heavily inspired by her thorough guide on serious eats and my interest in fermentation. So I made dosas. I had a little accident (my dosa batch exploded) so I dared ask Sohla via DMs. Long story short, she gave me some pointers and I ended up giving myself food poisoning. This was totally my fault…I learned the hard way that recipes are not suggestions, especially when it comes to fermenting legumes.
After my dosa fiasco, I decided to try something with a little more space for error and creativity. Cinnamon-Date Sticky Buns. Awesome. However, I have a stupid sensitivity to dates (they make my tongue swell, very uncomfortable.) So I opted for something a little more luxurious, yes, in this economy. To me the height of luxury is caviar. Oysters. Champagne. Expensive drugs. But those do not sound enticing in a house roll.
So for the first iteration, I tried a Pistachio and Chestnut creme. The fanciest of nuts. I had some Chestnut creme I brought back from a trip to France last year and I, myself, am very extra so I keep raw pistachios in my pantry.
The mix of chestnut and pistachio was a delight but a little too extravagant for my guilt, also I don't live in France and I don't have access to chestnut creme at a good price.
Pistachio Almond Creme Bun Rolls
I am going to be practical. So I won't share the dough recipe because you can find it here. Also it is not mine. Follow Sohla's recipe but come back to me for the filling. 🙂
Ingredients
2 cups of raw pistachios (you can roast them but the paste will be brown not green)
1 – 1/2 cups of sugar cane sugar
1/4 teaspoon of almond extract
1/3 cup extra virgin olive oil (the good stuff)
1/2 teaspoon kosher salt
1/2 cup almond flour (crushed almonds)
1/2 cup packed brown sugar
Method
In a food processor, grind the pistachios until the form a mass that resembles a pliable dough. 5-8 minutes (assuming these are somewhat fresh raw pistachios)

Once it's smooth, start adding your sugar, salt, and almond extract until smooth. While the machine is still running, drizzle the olive oil until the paste is very smooth. Transfer to a bowl.

In the bowl with the paste, add the almond flour and whisk together until you have a smooth and firm paste. This is your bun filling.
Spread the paste over the dough and top with sugar. Go on making your buns as the recipe calls but with the pistachio filling. This is what they should look like when they're ready to proof.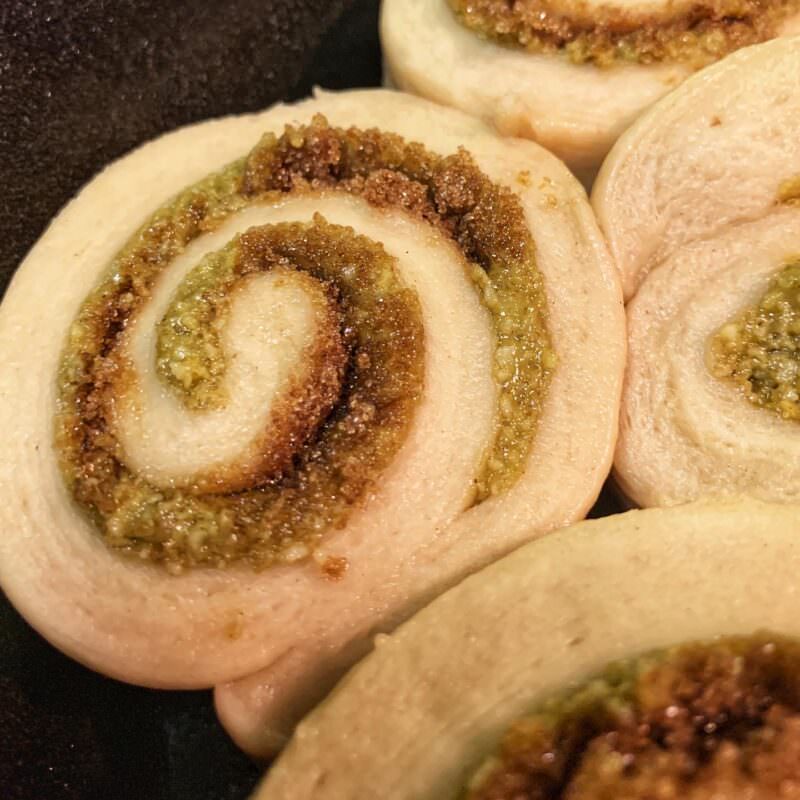 After baking, this is the final product. Topped with a buttermilk vanilla paste glaze.
My feelings toward Bon Appetit aside, Sohla's Sticky Buns recipe is excellent and foolproof, if I'm totally honest. I've made these buns 3 times now and each time they're just as good. The only thing I'll do differently next time is instead of rolling the dough 12″x12″, I'll try 15″x15″. I think the dough can be a little thinner which will make the filling shine a little more.