This can also be called "empty your fridge" soup. There are a few things I always have in my kitchen/fridge: curry paste (red or green), sesame oil, fish sauce, limes, and ginger. You can't really do much with these ingredients on their own but they sure make a great base. For any curry. So on Sunday afternoon when I was feeling lazy AF and trapped in my house because of cloudy weather, I decided to make a cozy soup with everything I had in my fridge. Lucky me, I had a good base.
What you'll need:
Vermicelli noodles
Tofu or chicken
Whatever veggies you have, I added: mushrooms, artichokes, carrots, fresh peas, onion, garlic.
Toppings:
Tomatoes
Cilantro
Radishes
Cucumber
For the base:
Red curry paste (sue me!)
Fish sauce
Fresh garlic
Sesame oil
Lemons
Coconut milk
Chicken stock (or broth)
Glass of water
Method:
In a large pot heat, a dash of sesame oil and sauté the garlic and ginger. Add a dash of fish sauce and lemon. The fish sauce is going to stink a lot so you better get used to it, I promise it'll be delicious. Add the tofu or chicken and mushrooms, then add the red curry paste and a little of the chicken stock until the curry paste is dissolved. Once all the ingredients form a thick paste (except the tofu or chicken and mushrooms, these must remain whole). Add the rest of the veggies and coconut milk. Stir, stir, stir. Add half a wedge of lemon and then some water to loosen up the soup.
Now, taste it! Want more heat? add cayenne pepper. To your taste is it too "creamy" add a little more water and lemon. After the food tastes good to your liking cover the soup and let it simmer for 15-20 minutes so the flavor develops. Then taste again. When it looks like a fantastic bowl of soup, add the noodles. Then, when you feel like it's amazing and you want to eat the whole thing, put it in a bowl and add the toppings!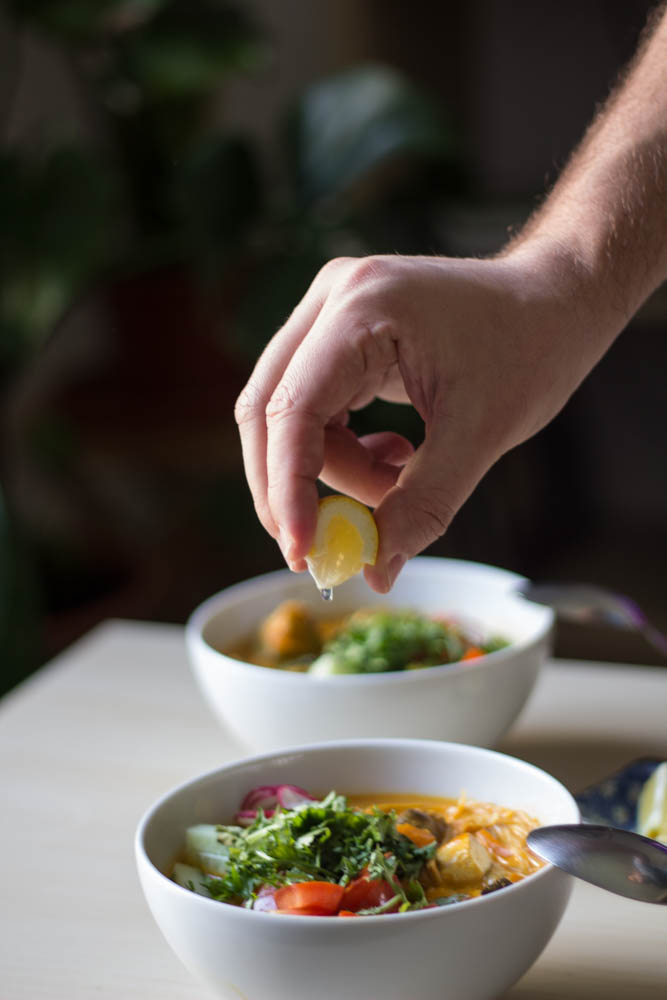 Enjoy!