Sunday mornings are always easygoing at my place. No alarms and no rush; just a flow of "do as you please" in the air. Today was no exception. I sat on the couch and with a cup of green tea watched an episode of Chef's Table. It left me stunned.
It features Jeong Kwan, a Buddhist nun who resides in a temple in South Korea and cooks vegan cuisine in the most spiritual way I've ever seen in my life. I really identified with her approach to food because of her sense of community and communication.
"With food we can share and communicate our emotions. It's that mindset of sharing that is really what you're eating. There is no difference between cooking and pursuing Buddha's way."
Man did this inspire me for today. I embodied her mindset and went off to cook a beautiful Shakshouka brunch with some intimate friends. A few had never tried this before and I was beyond excited to make it for them.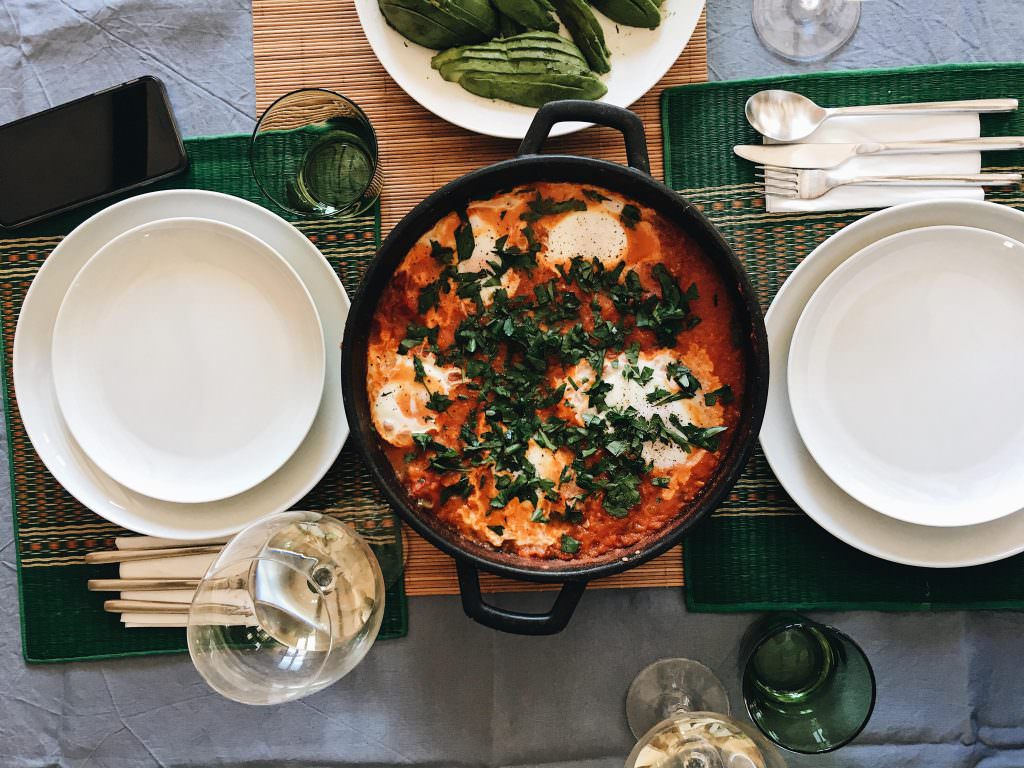 Over bloody marys we chopped crisp bell peppers and roasted tomatoes. Talked about where shakshouka comes from, Theresa May and wondered if she'll pursue the Maldives after this Gibraltar ordeal, and discussed our current obsession with Big Little Lies.
What I love about this recipe is how soulful it is. It's quite straight forward to make and has all of the makings of a great comfort food dish: a delicious sauce and a runny egg.
What you'll need:
2 tablespoons of olive oil
1 large red bell pepper, chopped
1 medium green poblano pepper, chopped
1 onion, chopped
2-3 garlic cloves, minced
1 teaspoon of hot pepper flakes
2 teaspoons of cumin
1 teaspoon of sweet paprika
salt & pepper to taste
6 eggs
9 medium sized tomatoes (you can use 200gr of canned tomatoes)
1/2 cup of water
2 tablespoons of parsley, chopped
Method:
Roast the tomatoes with salt, pepper and olive oil at 170°C for 20 minutes. In a separate large pan at medium heat add the olive oil, followed by the peppers, onion, garlic, salt, pepper, and chilli flakes. Then add the sweet paprika and cumin. Cook at medium heat this for about 15 minutes.
After the tomatoes are soft, peel the skin off and blitz them in a blender. After you have a smooth sauce, add it to the pepper and onion mixture. Let the sauce simmer for 10 minutes, then add the eggs and cover them. Cook for 5-7 minutes, remove from the heat and top it with parsley, salt and pepper.
This dish is sweet and spicy. Quite soulful. Eat it with bread, tortillas, or even rice if you're feeling it. We had them with arepas and avocado and let me tell you it was seriously delicious. I really recommend it. Ah, it we washed it down with white wine because, well, it's Sunday and you can't judge me.