I have a daytime drinking policy: it's only okay at brunch and when having aperitifs with tapas. And vermuth. And best friend crisis. And boy problems. Well, those are several policies, but who's counting?Also, another one if to kickstart the holiday season after a very fat Thanksgiving weekend. So, why not with a few fizzy cocktails and tapas at one of my most beloved neighborhood restaurants: Casa Lolea. This ain't your run of the mill sangría and tapas place in Barcelona, which might sound like a distasteful tourist trap. It isn't one of those. It's an antic sangría factory from Zaragoza that opened its doors in Barcelona about a year ago. Their concept: straight up traditional sangrías, and some with a nice twist.
And so it began: fizzy cocktails and delightful tapas on a Sunday afternoon.
Patatas bravas here are served boiled, not fried like in most places. Topped with aioli and a smooth and slightly spicy brava sauce (think of a chunky homemade spicy tomato sauce).
The patatas bravas are the kind of tapa that should never be negotiated when ordering in a restaurant. One must always try the different types of bravas each restaurant has to offer, for they are different at every single place. No sauce is the same. No potato is the same. If you're looking for an interesting guide of patatas bravas in Barcelona, I recommend you check out Bravas Barcelona, this guy has been almost everywhere trying all the bravas Barcelona has to offer and a Top 15 included!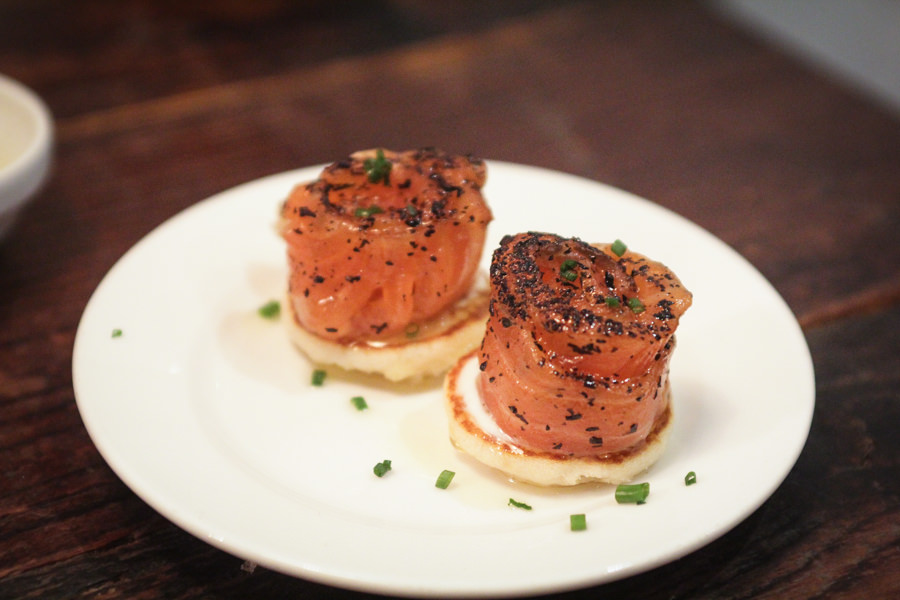 Smoked salmon roses with tea on a blini. Kind of like an amouse bouche that left me wanting for more. Seriously I could have eaten about fifty of these! The perfect bite.
Cured tuna with tea, almonds, orange and onions. One of those "you have to eat everything together to get the great taste that the chef intends you to have". Sure, those are great, and I love that. And this tuna is has the perfect tune. All of the ingredients make the perfect harmony in my mouth while my tongue danced happily to the rithm. I have to say, these people know their fish.
Baked tomato with codfish, topped with anchovies. Yes. Anchovies and codfish. Yes, two really strong fish together. And yes, amazing. Casa Lolea knows balance, and how to balance their cured fish. Tasteful and hard to share.
Everything rightfully washed down with a fizzy cocktail: Casa Lolea's new holiday drink, a wonderful white wine brut infused with granny smith apples and elderflower. Just 7% proof so your relatives can sip it away all day without feeling the effects too much!
These lovely bruts can only be found right at the restaurant. So, if you're in Barcelona for the weekend, or the holidays make sure you take a few bottles!
Sant Pere Més Alt, 49
Barcelona, 08003