These past few days there has been only one type of weather in Barcelona: cloudy. Gloomy and grey. For that reason, it has made me want to eat soup all of the time. I blame my heritage. My parents are Dominican and they sure love their soups and stews on rainy days, even if the weather is perpetually hot in the island. As soon as there's a cloud in the sky it's time to whip out the sancocho. Sancocho is a type of stew with meats and starchy vegetables. It is very hearty and it goes accompanied by rice, avocado and a sour element that can be bitter orange vinegar or limes. Oh, and hot sauce. Because I'm so used to eating this on rainy days, every time it's cloudy I need some kind of soup! I wanted ramen to begin with, but only had udon noodles at hand. Then I thought… udon soup! But didn't have the base for it.
I consider myself a very resourceful person in the sense that I can make tasty food with whatever I have in the fridge. And that is exactly what I did here. I made a delicious udon soup with a pho base, so it's basically a pho, right? I don't even know. Help me. What started as a random soup ended up as a full on Japanese and Vietnamese ingredient fusion that tastes amazing! My apologies to the people who think these ingredients must only be eaten within the boundaries of the cuisine they're from, but I politely disagree.  
So here's what you'll need for the broth, which is the core of any soup.
3 cloves of garlic
2 cloves
3 sprigs of tender garlic
ginger
soy sauce
dash of fish sauce
1 lime
assorted mushrooms
1 small dried chilli
two slices of smoked herring fish (yup, smoked herring)
sesame oil
udon noodles
four cups of water
To serve:
shaved carrot
1 sprig of cilantro
1 sprig of mint
1 small handful of chives
chilli (optional)
lime
Begin by mixing your broth elements: heat up the sesame oil (don't burn it!) and saute the garlic, ginger, tender garlic, mushrooms, and chili. Then add the fish sauce, soy sauce, and limes. Don't run away from the kitchen because of the fish sauce, it's okay that it stinks. Once my mom thought I was cooking rotten food because of the smell, but I promise it's okay, it tastes great afterward. Mixmixmix the base.
When it's beginning to get real hot, add the beautiful slices of smoked herring. Yes. Herring. Stop hating on this beautiful stinky fish.
It deserves appreciation, damnit! Then add the water, bring the broth to a boil and once it reduces to half, add the noodles. The gross rims on the sides of the pot measure the reduction of the broth. That's a good thing. Mix away until it boils.
Serve with cilantro, mint, more mushrooms, shaved carrots and chives. Serve and swerve.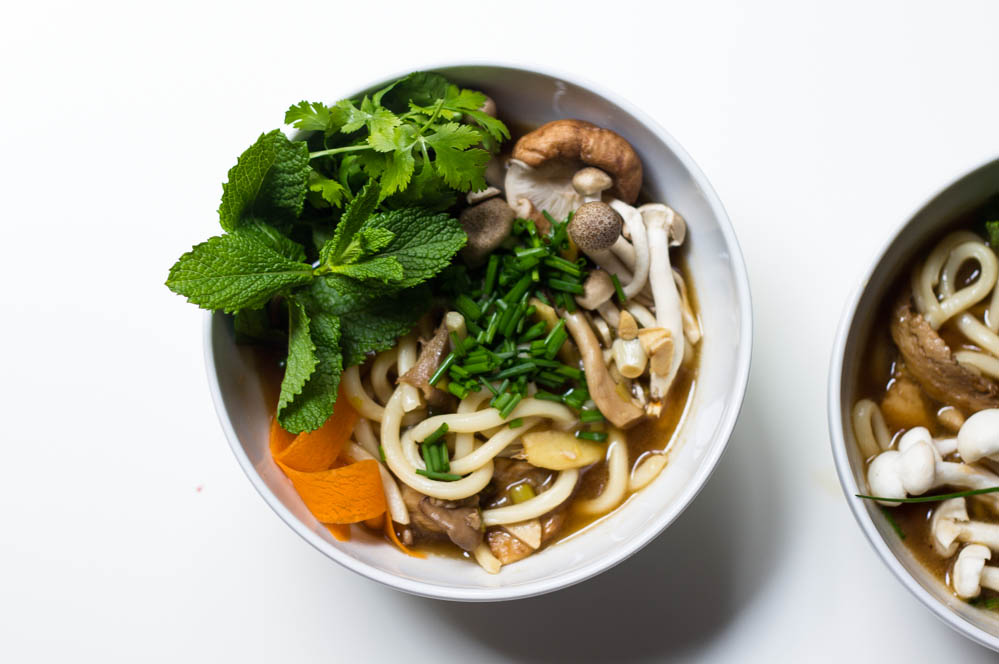 Is this a traditional pho? Nope. Not at all. I like to think of it as a Japanese and Vietnamese fusion soup that was born in my kitchen because I like to cook things like this on a whim. Enjoy!