Did you know that the Caesar Salad was originated in Mexico during the prohibition era in the 1920s? Neither did I. And that is your fun fact of the day, this is not that type of blog. 
Caesar Salad has become the most basic and staple dish in restaurants all over the world. Not feeling adventurous? Order a Caesar Salad. On a diet? Caesar Salad. Everything literally looks gross on the menu? Caesar. Salad. Anyway, for some weird reason, I was craving it, so I went ahead and got all of the ingredients and made it all from scratch. Luckily my mother in law brought me back some anchovies from Spain. It does not get better than Anchoas del Cantábrico.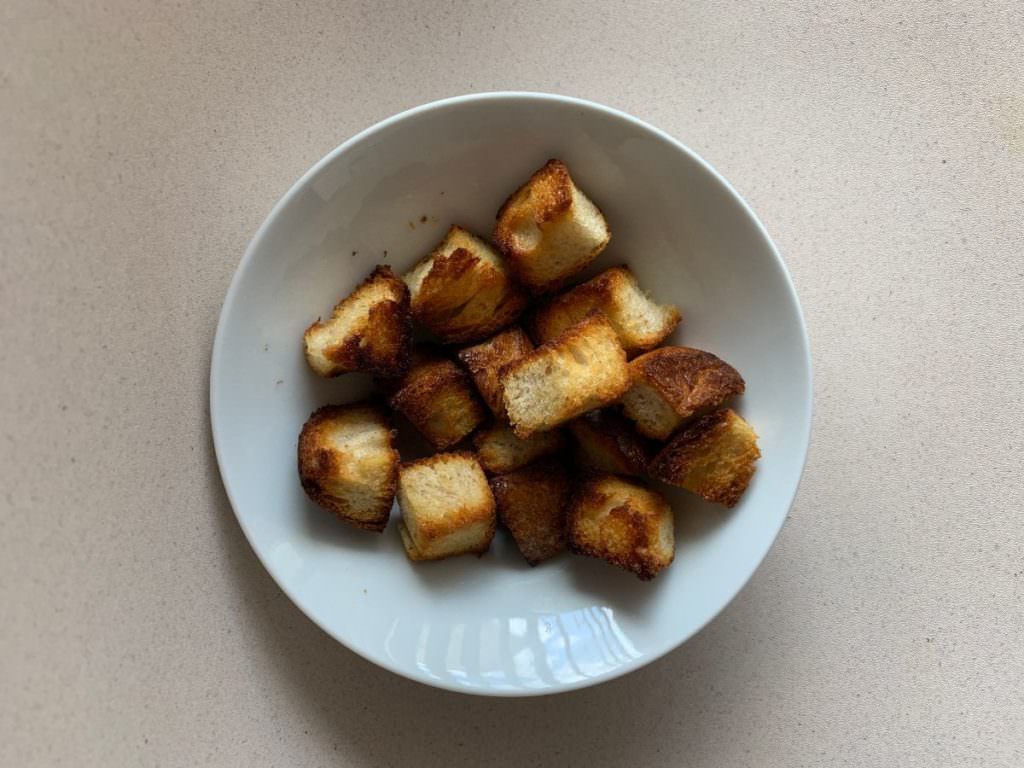 Making your own croutons
Have you ever stopped and looked at the ingredients list of croutons? Don't. It's ridiculous. So many additives, preservatives, and flavorings that nobody really needs. Hey, if you're into it, no judgment here. All I am saying is that you can make your own way faster with just two ingredients. Also, they'll be way tastier.
What you'll need: 🔪
2 thick slices of bread, cut in cubes (I used sourdough)
3 tablespoons of olive oil
an oven, a baking tray and a sheet of parchment paper

Method: 🥖

Preheat your oven to 370°/187 °C. On a baking tray, lay a sheet of parchment paper and put your bread on it. Lightly coat the bread by drizzling the olive oil onto the bread and give it a toss. Pop it into the oven for 10-15 until golden brown. That. Is. It. Use it for salads, soups, or as a snack!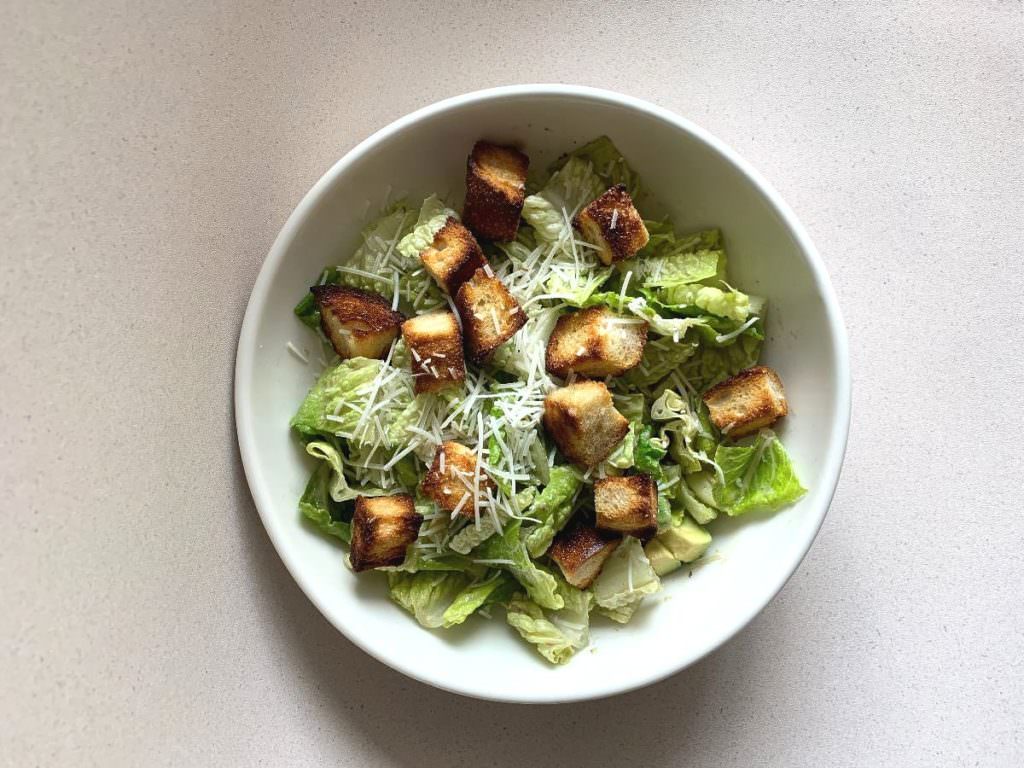 What you'll need for the salad: 🔪
3 cups of romaine lettuce cut into bite-sized pieces
1 cup of croutons
parmesan cheese, as much as you like really
1/2 a cup of diced avocado (optional)
For the dressing: 👗
4-5 fillets of anchovies
1/2 tablespoon of Dijon mustard
1/3 of a cup of lemon juice
1/4 of a cup of white wine vinegar
1/2 a cup of olive oil
1 clove of minced garlic (about 1/2 a teaspoon)
1/2 a teaspoon of non-iodized salt
pepper to taste
Method: 🥗
Add all of the salad ingredients (except the parmesan) to a bowl.
Add the dressing ingredients to a mortar and pestle. Mix and mash it until it becomes a thin-ish and manageable pasty sauce. Taste it. If you consider it needs more acid, add more vinegar. Does it taste bland? Add a pinch of salt. This is where you start developing your palate and what you find that tastes good. Not everything is guided.
Toss the salad with the dressing and sprinkle a little parmesan cheese on top. Enjoy.